Electrical Services in Chico, Paradise, Red Bluff, Cottonwood, Corning
Locally owned by Peter Gal. Offering 30+ years of experience as a well pump technician and electrical contractor.
Norcal Electric & Pump Work serves Chico, Red Bluff, Corning, Vina, Cottonwood, Anderson, Los Molinos and surrounding areas. We specialize in Well-pump & electrical services.
For over 30 years we have offered quality solutions to homeowners and businesses alike from the installation of a backup generator, well pump repairs and installation and general electrical services.
Our approach is to provide our customers with practical solutions that supply an end product that is valuable and of the highest quality.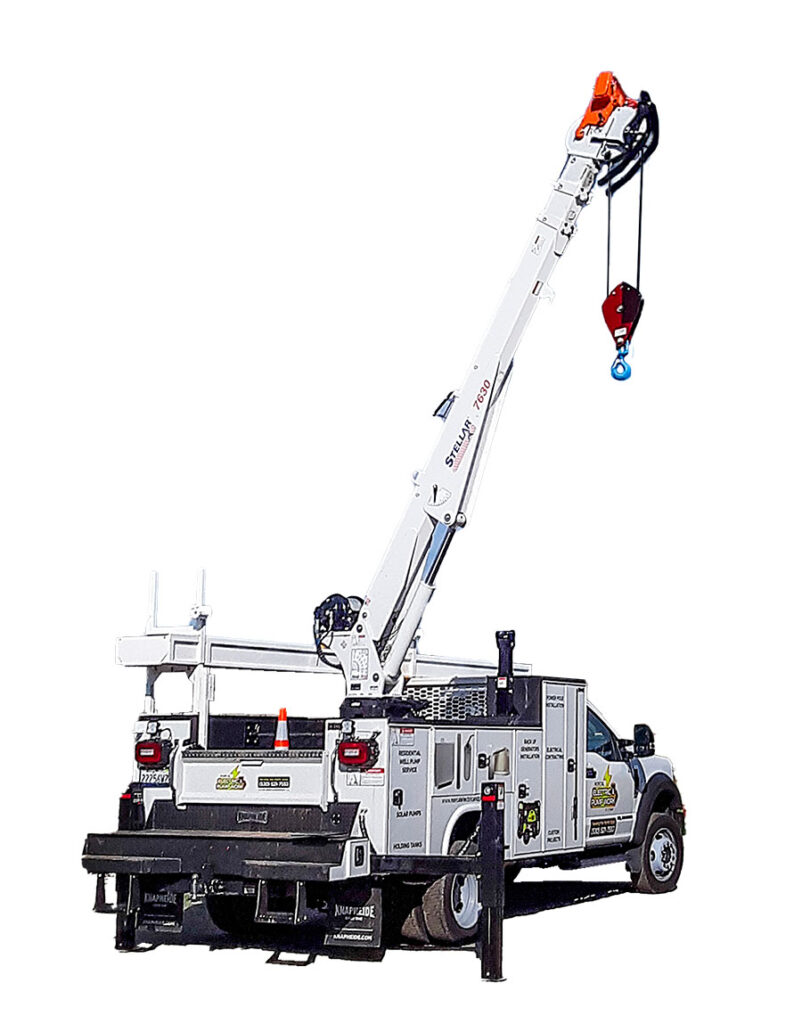 Well Pump installation, maintenance & repairs
As a full-service, fully licensed well-pump contractor we can help with installation, maintenance, repairs and other services that include, but are not limited to the following:
Booster Pumps
Electrical & water system [troubleshooting & repair]
Irrigation Pumps
Jet Pumps
Pressure tanks
Sediment Filters
Solar Pumps
Tanks
Water holding/storage tanks
Water lines
And more
From installing new systems [and storage tanks] to upgrading old systems to repairing pumps and beyond, Norcal Electric & Pump Work is here to help with all your well-pump service needs.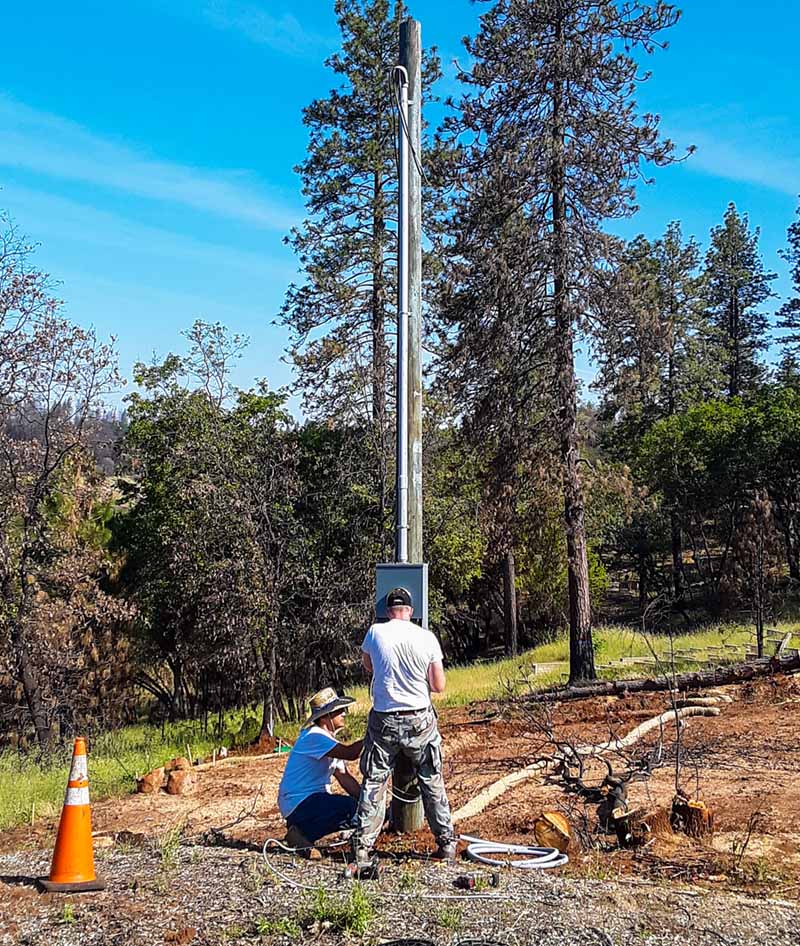 Temporary Power Pole Installation
We offer fast temporary power pole installations. We won't waste your time. We show up with heavy equipment we own and get the job done right. Our crane truck can install both temporary and permanent power poles for homes and businesses.
Faster installs
Owned Heavy Equipment
No rental fees and wasted time
No nonsense
Temporary power poles from a local trusted electrical contractor.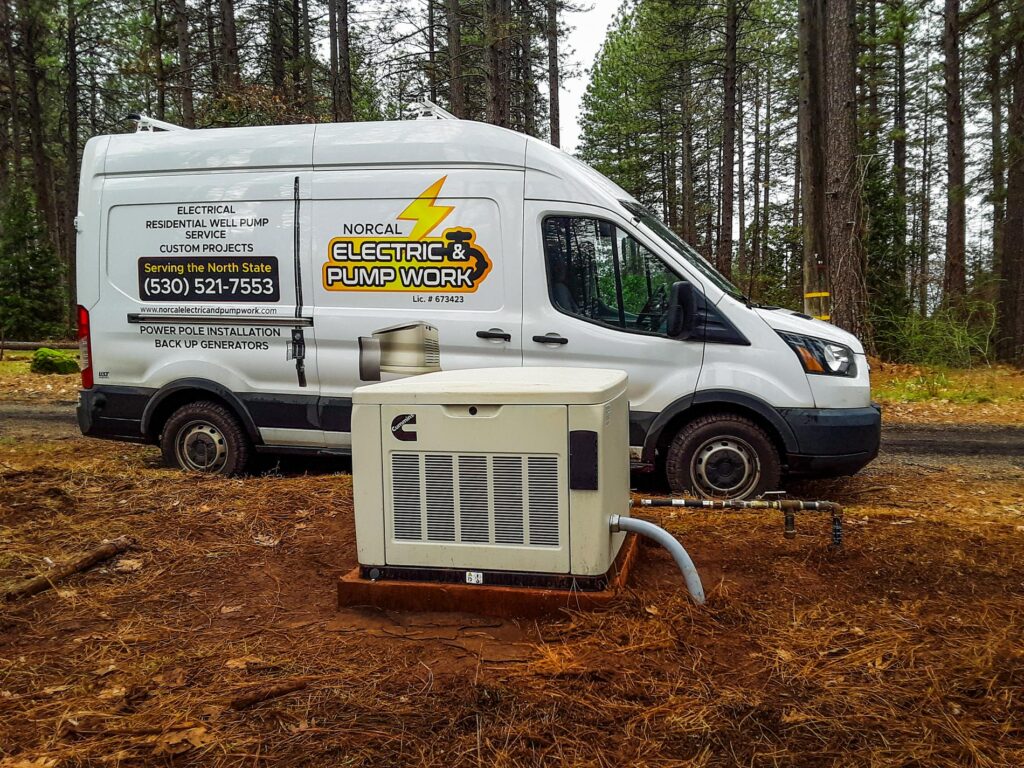 Whole house backup generators.
We can install safe, easy to use backup generators. Our solutions meet high safety standards and provide the right equipment needed for long run times and safe fail over protection for your home.
Home backup power from a local trusted electrical contractor. 
All of our services are backed by our 100% satisfaction guarantee. Our electricians can install anything from new security lighting for your outdoors to a whole home generator that will keep your appliances working during a power outage. Our installation services are always done promptly and safely.
Full-service electrical layout, design
Wiring and installation/upgrades
Emergency power solutions (generators)
Well Pump service and installation
Virtually any electrical needs you have – just ask!
Do you need help with electrical maintenance?
Contact us – our technicians are ready to help you solve that issue.
Our Testimonials
I found Peter to be courteous and professional. He spent a good deal of time ferreting out the source of a squeaking smoke alarm that I was convinced was coming from inside the attic. He found the source of the problem inside a side table drawer-a new smoke detector still in the package as I stood there embarrassed. Instead of making me feel bad, he smiled and said,"No extra charge for saving your sanity." 😉
Diana T.
I found Peter on yelp this morning. My elderly aunt needed to have some wires in her house looked at and a new smoke detector put in. He was here within an hour and got the job done in 20 minutes. No bs, gave me what I needed, and at a fair price. Would for sure call again!
Shannon M.
Almost three years ago we moved into a new house, despite inspections, the lighting for our house died shortly upon moving in. Apparently that happens, and it's a thing. We've never experienced being in a home that needed to be "re-wired" and had nowhere to go. A friend recommended Peter to us and assured us he was friendly, trustworthy and understood the value of hardwork. We soon learned that this was not only true but it also exceeded our expectations. Thank you Peter!
Kimberly L.